Use the power of intrinsic engagement, 
play, and games to revolutionise how we conduct research,
collect data, and change the world.
Buy now from
Games and Gamification in Market Research is available through several outlets.
For the full list, check out the Buy Now page.
With special Foreword by industry thought-leader and author,
Dr Annie Pettit, PhD.
(I love you Annie. Thank you for helping me make this book happen!)
and contribution from Jane Frost, CEO, Market Research Society.
Games and Gamification in Market Research is available through several outlets,
including Waterstones, Barnes & Noble, Foyles, and the Harvard Book Store. 
For the full list of outlets and to pre-order now, check out the Buy Now page.
"Essential reading for the researcher seeking to use
the engagement techniques of gaming to
maximise survey participation and consumer insights"
– Mike Cooke, Legal Affairs Committee Chairman, ESOMAR
Now published in 3 languages!
English, Spanish, and Portuguese (print and audiobook available)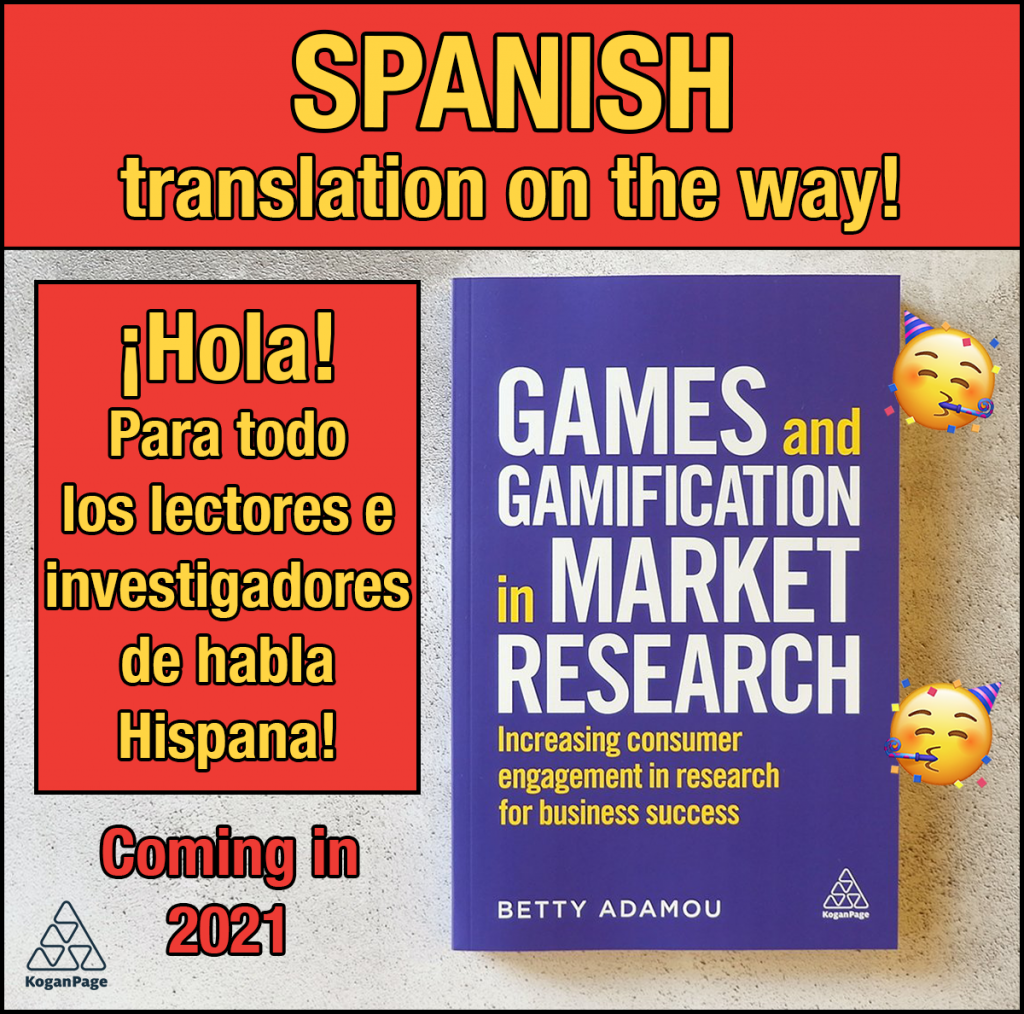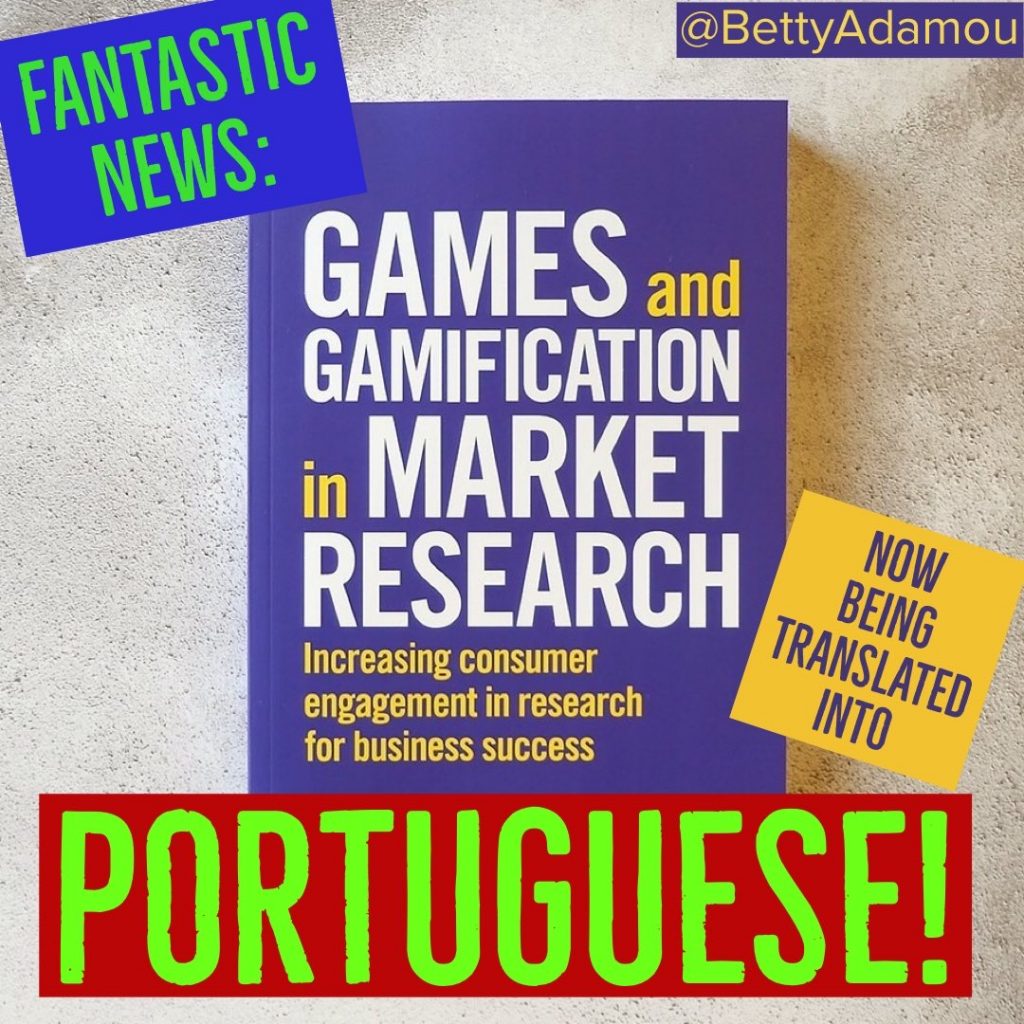 Betty Adamou invited to write the QRCA featured article for their Spring 2018 edition, where she discusses ResearchGames as simulations for context-based insight to uncover the why behind past, present, future choices.

Ray Poynter interviews Betty Adamou live on NewMR.org about her book. Click the image to access the recording and hear the audience questions.

How gamification can help identify future-focused insights and waste reduction in clothing design and development. By Betty Adamou

When Betty told Bob that she'd written a book, he kindly invited her to talk about it on his daily news show. Catch the interview here & listen to 'A Peek at Misconceptions Holding Back Gamification'.

Companies looking to appeal to younger market researchers should apply some rules of gaming engagement, says Betty Adamou

Paper by Betty Adamou & Dr. David Birks from the University of Winchester have their paper published and translated in Russian. Click image to read more.

Listen to the podcast with +7 intelligence podcast host, Ches Hall, interviewing Betty Adamou on why Games and Gamification will disrupt market research and other forms of data gathering.

Betty Adamou invited to share her views on how games, gamification and play will shape the future of data collection and consumer insight.

Host Paul Kirch speaks to Betty Adamou in this lively interview about the controversy of games and gamification in market research and more.

'Play, a tool to understand market trends' is an interview with Betty Adamou translated to Spanish for Colombian specialist news site, Portafolio.

Betty Adamou is interviewed about her new book and answers questions about Research Games and Gamified Surveys with podcast host, Sima Vasa. The Data Guru's podcast brings real life perspective on what's happening in the industry and how successful companies and individuals navigate through the sea of change.

AEDEMO, the Spanish Association of Market Studies, Marketing and Opinion, invited Betty to write an article on how she was inspired to use, and how she applies, narrative and storytelling to her ResearchGames. Read it now (Spanish only).

Issue 5 of Analog magazine, Betty shares how game developers and designers can discover a new genre of games: ResearchGames (article begins on p11) Betty also designed the front cover for this issue.

Betty's work cited in the Business Research Methods book, 13th edition

Pamela Schindler, author of the long standing Business Research Methods book, now in it's 13th edition, has included Games and Gamification as a part of the research toolkit, citing Betty's work as examples.

By Betty Adamou & Dr. David Birks co-wrote a paper based on two ResearchGame case-studies and presented this body of work the Association of Survey Computing conference, Winchester, UK.
About the book
Why don't research participants take part in surveys as much as we want them to, even when they're given, sometimes lucrative, incentives? Because they're unengaged, and games, by contrast, are the most engaging medium of all time.
Games harness storytelling and heuristics, drive emotion and push the evolution of technology in a way that no other platform has. It's no surprise, then, that games and gamification are revolutionizing the market research industry, offering opportunities to reinvigorate the notoriously sluggish engagement levels seen in traditional surveying methods. This not only improves data quality, but offers untapped insights unattainable through traditional methods. Games and Gamification in Market Research shows readers how to design ResearchGames and Gamified Surveys that will intrinsically engage participants and how best to use these methodologies to become, and stay, commercially competitive.
In a world where brands and organizations are increasingly interested in the feelings and contexts that drive consumer choices, Games and Gamification in Market Research gives readers the skills to use the components in games to encourage play and observe consumer behaviours via simulations for predictive modelling. Written by Betty Adamou, the UK's leading research game designer and named as one of seven women shaping the future of market research, it explains the ways in which these methodologies will evolve with technologies such as virtual reality and artificial intelligence, and how it will shape research careers. This book provides a fully immersive and fascinating overview of game-based research.
About the author
Betty Adamou has been named a revolutionary, pioneer,  innovator and one of seven women shaping the future of market research.
Having invented a new methodology of research and new genre of games through ResearchGames, Betty is frequently invited to share her work and enthusiasm as keynote addresses and lectures with her industry peers and students to re-ignite their passion for surveys, opinion-polling and other forms of research.
In her first and anticipated book, Adamou reveals the secrets of Games and Gamification applied to market research and why you need to join the change.
You can find Betty on Twitter: @BettyAdamou
More reviews of Games and Gamification in Market Research
"An interesting, informative read without the bulk. Betty is a master of her craft and this book is a gift to all who venture into the realm of games and gamification for market research.
Betty takes a step back to help you focus on the psychology behind why these methods will help you succeed. A must-read for all people interested in the space." 
– Laura Fagan, CEO & Founder, The Pain Journal
"Betty is the absolute expert when it comes to games and gamification in market research. Her book is steeped in practical advice and is written in such an engaging way that you won't be able to help yourself  in sharing her knowledge with others. Don't expect a dry manual. This is an engaging read with lots of activities to get involved."
– Fiona Blades, President and Chief Experience Officer,
MESH Experience
"Market Research is going through a state of disruption on many fronts.
We have big problems to solve including respondent engagement, data quality and client belief in the powers of great consumer insight.
Game-based research provides many of the answers to these problems and in this book Betty demonstrates how we can all benefit from more gamification."  
– Stephen Phillips, CEO, ZappiStore
"Gamification has become one of research's verifiably worthwhile new tools to improve surveys in a variety of ways, benefitting the respondent, research agency and client.
Who knows more about this particular subject than Betty Adamou? There's no so-called expert out there that I respect as much on the subject than Betty, which is why I can't wait to get my copy of Games and Gamification in Market Research."              
– Bob Lederer, Editor, Publisher & Producer, RFL Communications
Hey, you there! Want to unlock the Secret Stuff for Readers page?
Use the code noted in Chapters 8 and 11. Don't tell anyone.